Isla Muerte: The Art Commission
PART ONE
It was a typical Friday night at the Golden Boar Tavern in Port Faust. Named after the fountain that dominated the market square outside its doors, the tavern's clientele was generally more serene and wealthier than that found in the alehouses in the Docks District. A large square firepit in the center of the rectangular building provided most of the lighting in the main room. Clever use of highly polished shields on the ceiling and walls reflected light to the far corners of the room.
In one of those corners sat four adventurers, telling tales of derring-do* past. The tales got taller as their mugs of ale got emptier.
"…and once his torch had frozen solid in his hand," a blue-robed man was saying, "the goblin stared at it in shock, and with two good knocks on his head with my staff, he was down for the count!"
The table erupted in drunken laughter. Slamming his now empty mug on the table, a broad-shoulder mountain of a man waved to a nearby serving wench for another round. "My friend," he said looking back at the wizard, "I'm sure I speak for everyone here when I say I am surprised you had the strength to hit the beastie even one time!" The table erupted in laughter again. "You mages aren't exactly known for feats of strength; especially those performed by a demi-god like myself!" The Fighter flexed both his biceps for at least the tenth time that night, and yet he was still rewarded with a breathy "oooh" from a young woman a few tables away.
"We can't all be freaks of nature like you, Bull," interrupted a red-robed man, sitting on the opposite side of the table.
"Damn straight!"
"But you better be careful or Filadelfo there might cause you to interpret 'blue balls' in a brand new way." Another round of raucous laughter followed.
"An excellent suggestion, Harland," the blue-robed mage concurred. He gestured towards the man tagged as Bull and frost began to form on the Fighter's thick beard.
"Hey now!" Bull batted away the mage's hand as the others laughed again. "No need to get nasty! Think of the ladies you'd be depriving!"
"Depriving?" The fourth member of the table laughed. She was dressed in leather of blacks and browns, and had at least twice the number of daggers concealed on her body than were visible. "Don't you mean 'rewarding'? All of Port Faust would rejoice knowing their women were safe for one night!"
"My Lady Shadowstalker! You wound me so! How you have avoided my charms for so long, I will never know."
"Agreed." She finished off her ale and handed the mug to the server who was just setting down Bull's new drink. "You will never know."
Harland snorted into his drink while Filadelfo suddenly found the ceiling of high interest. Bull sputtered for a moment, then laughed. "Oh, well played. Well played!"
"Thank you. Now then, what about the reason we came together tonight? Has anyone heard of any jobs available for talent such as us?"
Silence loomed for a moment, then Filadelfo whispered something.
"What? What did you say?" Shadowstalker asked.
"I, uh, I said I might have heard something," Filadelfo stammered. "It's probably just a story, but a friend swears there's a shade of a Caravan Master that appears in the Dead Zone on nights when there's no moon."
Harland and Shadowstalker traded confused looks while Bull leaned forward. "How does this lead to a job?"
"Well, the shade supposedly wants revenge in exchange for revealing the location of a magic item he hid before he died."
Shadowstalker suddenly looked interested. "Magic item, eh? What kind of item?"
"I don't… I don't know," Filadelfo replied. "Like I said, it's probably just a story."
"Who cares about the item," Harland said with a shudder. "It's the DEAD ZONE. That place creeps me out. All kinds of zombies and nasty undead walking about. No thanks."
"Zombies? Really? I haven't sliced the head off a zombie in a long time," Shadowstalker said wistfully. "It's the best way to end them, you know."
"Ugh. Thanks for the anatomy lesson, but I need a job that pays money." Harland sighed dejectedly.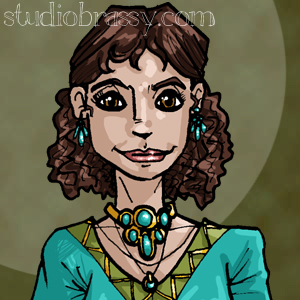 "A job? You looking for work?" said a new voice. The four adventurers turned to see an attractive woman seated at the next table. "I'm sorry, but I couldn't help but overhear," she said as she gestured around the room. "Not exactly private here. My name is Lady Celeste, and I'm the proprietor of a Craft Shop over on Silver Palm Way. I have a job, if you think you're tough enough."
"Tough?!" Bull almost spit out his ale. "Lady, you are looking at the toughest, meanest, slyest, most ass-kickingest people in the world. We're tough enough for you." He winked at Filadelfo, "Well, I am, at
least."
"What can we do for you, Lady Celeste?" Filadelfo tipped his snowflake-adorned hat at her.
"Oh, it's quite simple," she purred. "I just need you to bring me the head of David Wallace."
"WHAT?!" all four said at once.
"Not his real head," she giggled. "He has a magical bust in his mansion that looks just like him. It's imbued with some kind of power that gives him fantastic art skills. I want it for myself."
"David Wallace. The man who created the mural in Town Hall depicting the heroes who saved this town from the Pirate War two decades ago?" Bull was incredulous. "The man who created that amazing statue of a beautiful woman perched on a wharf pylon, keeping watch for future pirate attacks? That David Wallace?"
"Oh please don't let him start rambling about how awesome 'Savior Sal' is again," Harland murmured under his breath.
"That's the one," Lady Celeste confirmed. "He has a mansion up on Walker Hill. I hear it's very well guarded, but that wouldn't be a problem for people like you, would it? If you're successful, I have an enchanted weapon you could have as payment. It's of no use to me, but perhaps valuable to you?"
"I'm not sure theft from an upstanding citizen if the type of job I want," Bull started to say.
"It's the type of job I want!" Shadowstalker interjected. "There's not a building I can't slip in and out of."
At that the moment, the server returned with another round of ale. "If it's honest work you're looking for," she said softly, "then you should talk to Morton at the bar. He's been agitated all week about a late shipment from Crystal Lake. They're the ones who supply us with White Death Ale, but the latest delivery is more than a week late. I believe we're down to the last cask. It's a specialty ale, so we don't sell as much of it as the house brew."
Harland looked shocked. "You mean there's another choice besides Boar's Piss? I thought that was all you sold here!"
"No, sweetie. It's just all you can afford. You gripe about paying five coppers for ale; you think I want to hear you whine about paying one silver?" She laughed softly. "No thanks!"
The table laughed again as Harland opened his mouth to reply, then froze as no retort came to mind.
"Anyway," the server said as she began picking up the empty mugs, "I heard Morton talking to a trader last night, and he said there were rumors of bandits raiding Crystal Lake. Supposedly some mages and clerics in their group. Talk with Morty if you want to know more." She waved as she moved off to another table.
Bull watched her go, his lingering gaze perhaps a bit longer than the others, then turned his attention back to Lady Celeste. "Apologies for the interruption, Lady. Please give us a moment to discuss this."
"Of course," she said pleasantly, then turned back to her own drink and the open ledger on her table.
*Editor's note: I totally corrected this to "daring-do" but then double-checked afterward, only to discover that "derring-do" was originally an error but has been the accepted form for a very, very long time. So while I personally think "derring-do" is stupid, I can't "correct" it because that would be incorrect. Fuck English, okay?