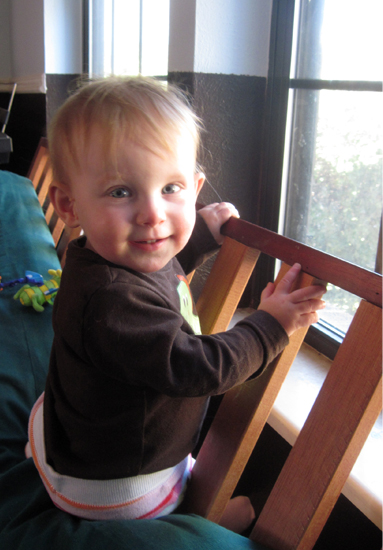 Apparently, it had been just slightly too long between diaper changes and miss Pixie was soaked. Soaked! I got her totally stripped down and changed and then had to run upstairs to grab her some dry clothes. In the time it took me to get upstairs, grab her clothes, and run back downstairs, Pixie was already up on the futon at the front window, diaper half off.
Yes, neighbors, that's my baby dancing around buck-naked in the front window. That's just how we roll here. Apparently.
Though, probably the best part about this little episode is that during the five-ish minutes it took me to write down my thoughts, the Hubbles came home. That's not the good part. The good part is a few minutes afterwards when I heard him telling Pixie that her mother lets her run around in wet pants.
Wet pants? I just changed her. So not only had she tried to strip down naked in the front window, but shortly thereafter, in her fresh, dry pants, she not only found but sat in cat puke.
Awesome.