Chappy is almost 2 now and has recently entered the part of his life where cars are everything. Now, Pixie likes cars, but what she really loves are trains. For Chappy, a train is merely an acceptable approximation of a car. You are far more likely to find him lining up every single car he can find on his sister's train tracks, regardless of fit.
If that kid is quietly occupied and not harassing his sister, he's got a car. Or two. Sometimes you need one for each hand, you know. Just like with mini oranges. What is this "eat what you have first" bullshit? MORE. ORANGES. MOM. So he's got these cars and he just drives them over anything at arm height, over and over in the same spot, and then he eventually moves on and does it all over in another 18 inch space.
The kids and I were up at Gramma's for the weekend recently and when we finally were ready to head out the door home, it happened.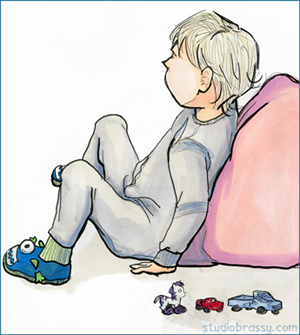 His cars were missing.
Yeah, I know. Not the end of the world. He probably wouldn't cry the entire way home, right? Maybe? I don't know about you, but as much as I don't want to spoil my kids and shield them from normal disappointments, I really don't want to drive 30 minutes listening to them scream.
So we looked and looked and looked, until Gramma found them neatly lined up on a low window sill, hiding behind a curtain. Parked. In addition to little cars, he also loves his riding and pushing toys, like the baby doll stroller and the toy shopping cart, which are currently parked, in a line, outside the downstairs bathroom. The pink ride-on pony is parked next to the play table. The lion is parked along the railing by the stairs.
Before you think he's just tidy, let me tell you that there are currently two rooms in my house covered in toys and one of my kids can't currently walk. Like most toddlers, Chappy's favorite game is to find a bin of toys and throw them all on the floor. Sometimes he's a big helper and puts them away, but usually that's a monkey see, monkey do activity only. He seems to seriously just be parking all of the vehicles in neat little lines all over the house.
Maybe he's going to be a parking attendant. Or just a little OCD, like Gramma.