One of the many things I have wanted to learn to do for awhile but always assumed was too hard, or something equally whiney and stupid, was home canning. As of just very recently, I can now can things! And you know what? It wasn't hard. The key seems to be planning ahead, preparing the food, and following recipes to ensure your food preserves properly. It's also fairly economical and the food tastes about a gazillion times better (this is a scientific finding, of course). Also, you know exactly what's in it, and it isn't high fructose corn syrup (which I happen to be biochemically sensitive to, so I have to be careful).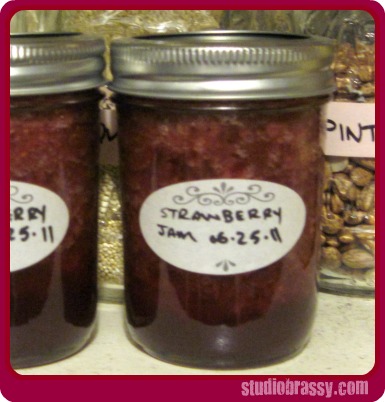 Have you heard of this HouseParty thing? This is not a sponsored post, but I need to tell you about these guys anyway, because they provided my introduction and the impetus to finally try out canning. With HouseParty, you sign up for an account and then you apply to "host" events that look cool. If you win a host slot, the sponsor for that event sends you a host pack plus goodie bags for your guests, you provide the munchies and some of the event-related stuff, invite your friends, and then have the party on the event day. So for the one I did, it was sponsored by Jarden Home Brands, which sells Ball and Kerr canning supplies. They sent me a starter kit, coupons for about half off the mason jars I needed, and goodies for guests: baggies, coupons, washable labels, canning funnels, extra canning recipe books (I got one for me, too). I also provided the strawberries and sugar for the jam we made as part of the party. Oh, and they provided the pectin, including a zillion little pectin samples for guests. We made preserved low-sugar strawberry jam (can be stored for up to one year in your pantry), no-cook strawberry jam (must be stored in refrigerator, use within 3 weeks), and no-cook ginger-strawberry jam. Everybody went home with some jam!
You may be wondering, if this isn't a sponsored post, then why am I telling you all about it?
Because it was the best jam I have ever eaten. EVER.
I love this jam.
It makes the best peanut butter and jelly sandwiches, too. Except I haven't tried fresh-ground all-natural peanut butter… can you imagine?! With my homemade jam? And maybe some homemade bread? EXCELLENT.
I now have a cooking project.
Anyway, here is the recipe we used, and it was ridiculously simple. I bought my berries when they were on sale for 88¢/lb and now I have killer strawberry jam that will last a year in my pantry. Well, it would last that long if I weren't going to eat all of it before a year is up. BUT I AM.