I enjoyed reading ANNA AND THE FRENCH KISS so much, it made me want to study French again. Or go to Paris. Or both! I'll take both, thank you. In fact, I enjoyed this book (which I borrowed from the local library) so much that I bought a copy for YOU. Well, maybe not you. But for one of you! Wanna win it? Well, keep reading!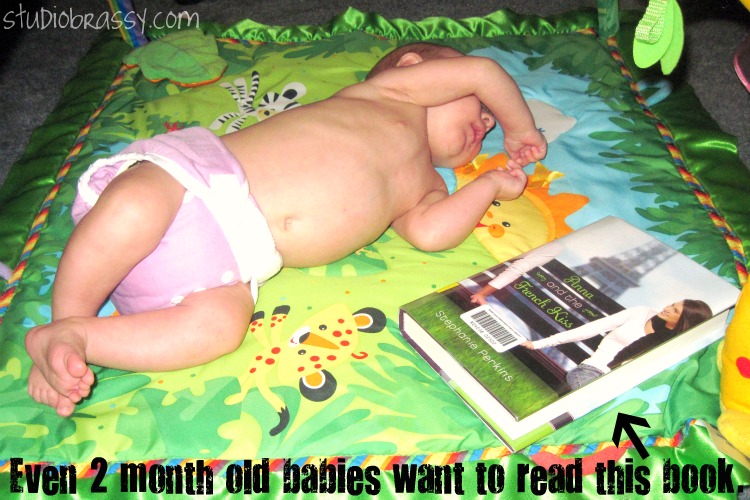 As we meet Anna, her divorced parents are settling her into her dorm room in Paris, France. Seventeen year old Anna is a high school senior whose rich prick of a dad decides she needs to leave her public school in Atlanta, GA to get some "culture" at a very small boarding school in Paris. On the one hand: Paris! France! Freedom! On the other, Anna has to leave her friends behind, her mom and baby brother, her senior year, her crush, and be the "new kid". And she doesn't speak a lick of French. Oh! The big, huge deal for any 17 year old? NO ONE ASKED HER.
The novel, Stephanie Perkins' debut, is very easy to get into and avoids the stereotypical cardboard dialogue and awkward narration of many first novels. Her characters are real and imperfect, but not so flawed that they fall out to the other end of unreal. While not a "Romance" novel, romance and relationships feature prominently for these budding young adults. The boys in this book are positively refreshing. They act and talk like boys, not like too perfect, too wimpy, sparkly stalker vampires pretty boys. Friends will fight and friends will sometimes say awful or rude things to each other. The romantic notion that the boy you love will never screw up or tell you to "piss off!" is lame and doesn't rear its ugly head here. To go along with her character development (yup, they actually grow and learn!), Perkins also paints engaging visuals of both America and France.
Bottom Line: this a Young Adult (YA) novel, and it's mainstream fiction (realism), though I wouldn't limit its appeal strictly to teens. With how prominently romance plays a role, it may not have much draw with the average male reader. While I've read plenty of books with romance thrown in that aren't targeted more for women, the romance is generally handled differently or isn't the major thrust of the novel. As always, Your Mileage May Vary.
Sound interesting? Want to win a copy?!
This giveaway is unsponsored, which means I bought the book and I'm giving it away because little ol' me wants to. I like the book, and I want to share it with someone else! Got it? Ready to enter?!
HOW: Comment on this post, answering the Entry Question and be sure to include a valid email address so that I can notify you if you won! Winners will be chosen via Random.org draw.
WHAT: One brand new hardback copy of ANNA AND THE FRENCH KISS by Stephanie Perkins, shipped from me to you.
WHEN: Giveaway is open from 6am (Eastern) Tuesday June 14th, 2011 to 6am (Eastern) Tuesday June 21st, 2011 and winner will be notified via email on Wednesday June 22nd, 2011. Winner has 48 hours to respond or a new winner will be chosen.
WHO: Giveaway is open to residents of US and Canada, because that's where I'm willing to ship your prize off to.
ENTRY QUESTION:
What's your favorite book, or favorite book of the moment?
Want Extra Entries?
After you've answered the Entry Question, you can do any of the following for extra entries. Each entry must be in its own, individual comment!
1. Subscribe to Studio Brassy via RSS or via email (see below).
2. Follow me on Twitter.
3. Follow/Like Studio Brassy on Facebook.
That's it! Good luck and happy reading!
**CONTEST IS NOW CLOSED**