Welcome to another Story Time with our wonderful writing friend, Cholma! This adventure of our pals Maddy and Cholma was originally written for the holidays three years ago, so don't go sleuthing the internet for spoilers. Now, our story begins on the Friday before Christmas 2007…
The Christmas Caper
Part One
An arctic wind blew through Paragon City, a metropolis built on and around a large peninsula on the Rhode Island coast. A lone figure sat on the ledge of a building on Peregrine Island, a small, developed island at the northeast end of the city. A light blanket of snow covered the city, but on this day the sun shown bright and strong.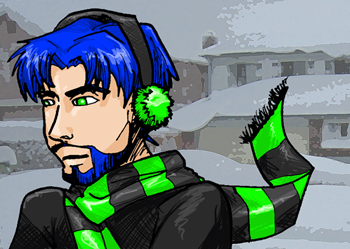 Although the man on the ledge wore green earmuffs and a green and black striped scarf, he wore no jacket; merely a thick shirt and a pair of snow pants. The cold breeze stung his cheeks, but to a casual observer he seemed unaffected by the cold. He had been motionless on the ledge for several minutes, apparently in quiet meditation, but in reality he was keeping an eye out on the door of a building a block away.
A small flashing light and a slight vibration of the armored glove on his right hand drew his eyes downward. With his left hand, he reached over and tapped a button on the glove.
"This is Cholma," he said softly to the air.
"Hey, Cho!" a female voice chirped in his hidden ear piece. "What's shaking, man? I just got done tangling with some of those Circle of Thorns clowns, and now I'm bored. You got any leads?"
"Hi, Maddy!" Cholma responded, his voice brightening. "I'm on a stakeout right now; Detective Selnum found me a possible Malta safehouse. He says he's been getting reports of men in either dark blue or black uniforms going in and out. Many with military-style headgear. I'm over on PI watching for any activity."
"Awesome! Seen anything yet?"
"Not really. There was a food delivery about an hour ago; a large one, but I couldn't get a good look at whoever answered the door."
A dark blue passenger van with tinted windows stopped in front of the building Cholma was watching. Two men in gray coveralls and baseball caps pulled down over their eyes got out of the truck. One went towards the back of the vehicle while the other headed for the door.
"Got some action here, Maddy. One of those fifteen passenger vans just pulled up."
"The airport shuttle type? I'll be there in five! Leave me a few heads to crack!" Maddy hung up with a giggle.
The door to the building was open now and the driver of the van was talking to someone inside. Meanwhile, the other man had opened the back of the van. He glanced up and down the street, then pulled out two magnetic placards. He stuck one on each side of the van, then opened the side doors. Cholma stared in disbelief at the sign now emblazoned on the side of the van. Prominently displayed was the red silhouette of a child's toy train with the words TOYS FOR TOTS in white on the engine and two cars. Cholma rolled backwards off the ledge and crouched on the roof with just part of his head visible as he looked down to the street. Six muscular men in black uniforms and close-fitting helmets that covered their eyes exited the building and ran for the van, the blood-red spider insignia of Arachnos brazenly visible on their flowing black capes. Each man carried the multi-pronged energy mace that was the signature weapon of Lord Recluse's thuggish Wolf Spider troops. Once everyone was inside the van, it drove off, headed south.
Cholma stood up and looked to the south. Deciding on a rooftop 120 meters away, he activated the teleport device on his belt and was instantly transported from his current location to the new rooftop. He made two more teleports, following the van south when his communicator chirped again.
"Hey, Cho, it's Maddy. I'm here; where you at?"
"Following a van with a 'Toys For Tots' sign on it. Looks like they're heading for the vehicle ferry at the south end of the island. Meet me there?"
"You got it. I'll take high cover. …Did you say, 'Toys For Tots'? Why the heck are you following them? Forget to make a donation this year?"
"Ha, ha. Actually, the van is full of Arachnos Wolf Spiders." Cholma teleported to another building. The van was two blocks ahead of him. "They're passing Vanguard HQ now. Almost to the ferry."
"Arachnos?! What are those Rogue Isle scumbags doing over here?!" Maddy was hovering high over the docked ferry, and soon spotted the van with its very conspicuous signage as it pulled up to the ferry. Unlike Cholma, who had to rely on technology to achieve his ability to teleport, Maddy Jones was a magic user who could call upon the magical energies suffusing her body to achieve flight. A moment later she saw her friend appear on the roof of the ferry and flew down to meet him.
"What's the plan?" she asked as she landed lightly next to Cholma. "Didn't you say you were hunting Malta? Where'd the spiders come from?"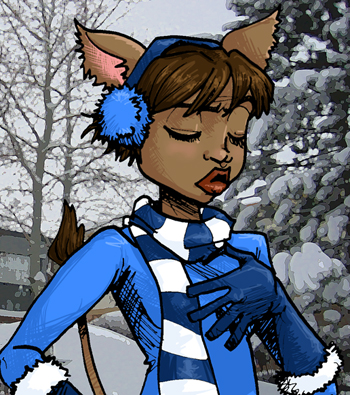 Cholma sighed as he looked over at his friend and fellow crime-fighter. Like him, she wore earmuffs and a striped scarf, although hers were light blue in color. She also wore some fur-trimmed, light blue gloves, but otherwise wore the short black skirt and white legwarmers she wore most of the year. "Don't you ever get cold?" he asked.
"Are you forgetting that I manipulate snow and ice on a daily basis? This is just a pleasant day to me." She laughed as she made a snowball appear in her hand, then tossed it out to the sea.
"Then why the scarf and other things?"
"Fashion, you goober. Fashion! Now, what's the story here?"
"Heh. Okay, okay. Turns out the building I was watching had Wolf Spiders inside. This van pulled up and they piled inside while a guy in coveralls put those 'Toys For Tots' signs on the side. Then they took off for the ferry. You now know all that I do."
"Okay, let's bust them, then!" Maddy gave a feral grin. "Damn spiders got no business in our town!"
"I was thinking we might want to wait and see where they're going. Don't you?"
"Maybe. I just want to smash some spiders!"
The two friends rode the ferry for the short trip to the much larger Talos Island. From there, the van drove south again before turning west onto the bridge connecting Talos with the Skyway City zone of Paragon City on the peninsula. As the van passed through the tunnel in the war wall separating Talos from Skyway, another van pulled in behind the first. This one also had magnetic signs on it. The two vans continued westward as Cholma teleported himself to the roof of a high building that overlooked the road the vans were on. Maddy soon landed lightly next to him.
"What are you thinking, Cho? I've seen that distant look in your eyes before."
"I'm thinking I don't like where this is going." His eyes gazed blankly westward. "Have you heard anything from any of your contacts about Arachnos, or any charity related heists?"
Maddy kept her eyes on the two vans as they receded into the distance. "Umm, there was something about a toy store in Founders Falls being robbed, but I think it was reported as just some local thugs."
"Hmm." Cholma's eyes regained their focus and looked up at Maddy who was now hovering a few feet off the ground. "Okay, you can follow them better and more discreetly than I can, so why don't you shadow them, and I'll stay a little further back and off to one side. We'll talk again once they come to a stop."
"Will do!" Maddy soared off in pursuit of the vans while Cholma pressed a button on his glove. He began to speak to someone after a few moments, but his voice was lost to Maddy in the wind as she got further away.
Continued in Part Two