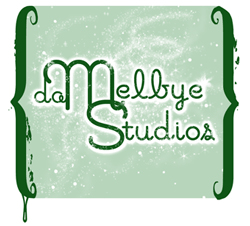 One of my first logo design projects was for a small owner-operated crafting and baking business. The entrepreneur, D.A. Melbye, started two businesses: Conifer's Crafts for her handmade fiberworks (such as knit and crochet scarves, stuffed toys, etc), and Nibbles and Noshes for her homemade gourmet baked goods. She's since moved on to other projects, so the website I created is no longer live (so in this case, my portfolio utilizes a screenshot only, and not a link to her actual shop).
In addition to creating the main daMelbye Studios logo, I did extensive photography for her shops (including post processing), designed and implemented the website, created all sub logos, developed color palette and typography, and created the packaging labels and coordinated stationery for the companies.
All three logos used the same typography and color palette, and the Conifer's Crafts brand utilized a hand drawn, digitally colored cat logo I drew. The shop was named for the owner's white cat, Conifer, hence the imagery.