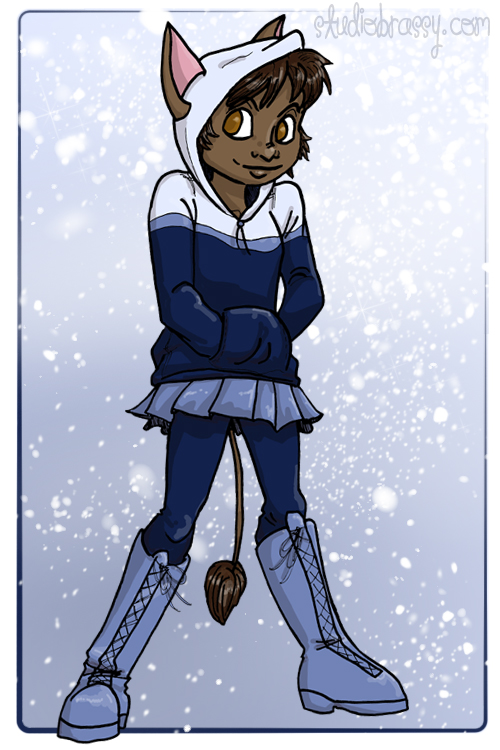 I've been doing a lot of writing revolving around Maddy Jones, my icy super hero friend, but nothing really clicks. I'm actually having similar problems with Ms. Sorcellerie. I can't even narrow down what type of story I want. A light comic romp, a dark and angsty anti-hero's tale, or an all ages adventure? This version of Maddy was probably inspired by Wreck it Ralph, which Pixie watched a lot of and I totally fell in love with. It's one of those movies that I liked more every time I saw it, and that's really saying something here. I think Pixie watched it back-to-back three times one day when she was under the weather.
All ages super hero Maddy doesn't actually transform into a cat girl. She wears a hoodie with ears and a tail stitched on, but I wasn't sure how to make it obvious in this style that it was fabric. I drew this piece in a REALLY small notebook, and I just couldn't get in tight enough to do seams on the ears or tail. I figure she's about 12 years old here, which is great for character growth.
If I were going to write in this direction, I should probably watch some Teen Titans Go! or anything else in that sort of subgenre. It's been… a long time since I was 12. Of course, I've also got nieces and nephews and children of friends I can hound about that stuff. Kids totally like when adults grill them on life, right?