I'm pretty fond of Cracked articles. I think there are quite a few good writers working there and I love the mix of fact and humor in a lot of their articles. Recently I read this one by David Wong discussing self-improvement and how other people view us. It's worth a read, so go do that. Right now, in fact.
Maybe I like it so much because I already agreed with some of the basic ideas, like the need to do and create instead of just existing. It's also something I really needed to hear right now. It's been a rough couple of years and I'm unhappy not creating things. I'm also becoming too comfortable with that feeling, settling for the life I think everybody gets and just chalking the disappointments up to how it goes. That's bullshit, and I'm mad at myself for ever believing it.
I've suggested blogging to quite a few people I'm close to (at least genetically) and the reasons have all been very good. So why don't I blog more? Do those same reasons apply to me? Of course they do. Oh, but I'm busy. Oh, but I have a special needs child and it's overwhelming and all consuming. Well, that's fairly true but that doesn't really matter. Is creating important to me? Is self-improvement important to me? More important than indulging in a good whine and some self-pity?
Wong suggests that we make a different kind of goal this New Year: get good enough at something to impress people. I love that. It's perfect. Why did I get sucked into the idea that it's not really okay to be successful at things?
Step one: stop wasting my time on people who neither expect me to succeed nor want me to.
This is not actually a new concept for me. It seems every few years I'm purging "friends," because they only call when they want something, because they're too negative, because they make poor choices and I don't want to be around that, because they just aren't very good friends. Any number of reasons. And you know what? I feel fantastic afterwards. And then I go and do it all over again. So what am I doing (or thinking) that's getting me back in the same situation over and over again? I suspect it's a lack of a strong backbone, and too much self doubt. You know what? That little voice that spits all of your deepest fears and insecurities at you?
Banished. Gone. This is the solution and this is non-negotiable.
And I realized that the little voice is just like a crappy friend. Being without it makes it clear how crappy it made me feel and how much better I feel now.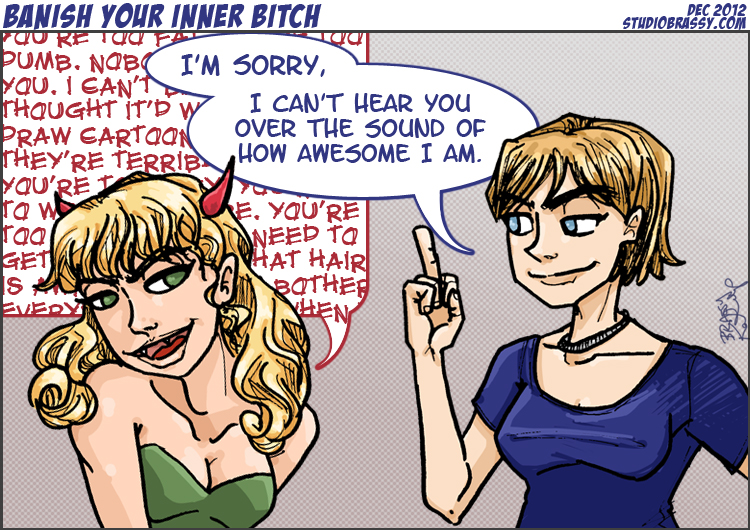 PS – Sound familiar? Always make sure you Know Your Meme.