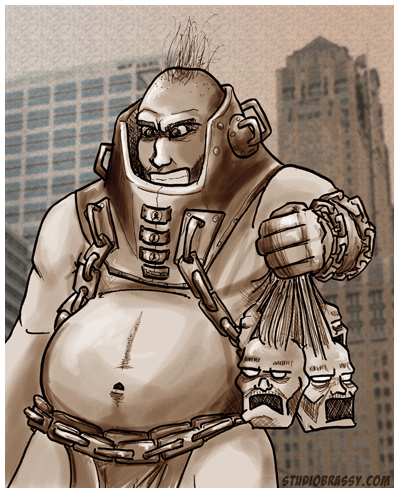 Towering over the nearby buildings, they could see the head of a giant creature that Cholma had never seen before. Pale skin covered a heavily muscled body that was wrapped in heavy-duty iron chains. The creature wore them like a harness. A massive spiked club was held in his right hand, and he swung it at an unseen foe as Maddy and Cholma raced to the scene. The impact of the club on the ground shook the surrounding area.
"It's… It's Jack in Irons," an awe-struck Maddy whispered. "I thought he'd been sent back…"
Cholma stood on the roof of a building overlooking a scene of battle. A small group of Paragon Police Department officers plus two Longbow super powered troops were battling the behemoth. It had been their misfortune to be on patrol this night when the creature appeared. What few civilians  were in the area were fleeing in terror, while distant sirens sounded the imminent arrival of police reinforcements. Maddy hovered nearby and was about to join the attack, when Cholma grabbed her arm and held her back. "Hold on a second," he cautioned. "You know this guy?"
"Jack? Yeah. Kind of. He's a creature of the Spirit Plane that the Red Caps somehow lured to Earth. He immediately took a liking to the heavily forested area in Croatoa and took cruel pleasure in tormenting the locals in the town of Salamanca." She winced as she saw the giant's club strike a glancing blow against an airborne Longbow agent. "I heard he had been defeated and banished back to the Spirit Plane, so I don't understand how he can be here now."
"Okay, thanks for the background. So he's magical in nature, then?"
"Yep. Just like the Red Caps and Fir Bolg." Maddy tore her gaze from the fight to look at Cholma. "May I please go smash it now?"
"As you wish." He grinned. "I'm going to stay back a bit and open with a few ranged attacks." With that, he turned towards the giant and its belt of skulls, and focused a Psionic Lance attack on Jack's head. The long ranged snipe attack struck the target unerringly, but failed to show any visible effect on the giant. "Wha..?" The Psionic Lance was one of the hero's most effective attacks, and he had failed to see it heavily damage a foe when it hit. "I'm sure I didn't miss," he muttered to himself.
On the ground below, a constant barrage of weapons fire from the police and bursts of fire from a flamethrower equipped Longbow agent assaulted the giant. Cholma smiled as he saw an ice slick appear on the ground beneath Jack's feet. The giant staggered, but did not fall just as one of Maddy's Ice Storms began to swirl around the creature.
More Longbow agents began to arrive from both the air and on the ground. Heavily armored troops from the PPD's Special Weapons And Tactics teams arrived as well, and set up blocking positions to Longbow's rear. As the battle raged, Cholma noticed other superheroes arriving on the scene, no doubt drawn by the same urgent calls on the police scanner that had alerted Maddy Jones.
Fifteen minutes had gone by and the giant wasn't showing any signs of slowing. At least a dozen people, both PPD and Longbow, had been seriously enough injured that their Emergency Medical Transport devices had triggered, sending them to the nearest hospital. A few of the heroes had met similar fates. A solid hit by Jack's club was enough to flatten or kill anyone. Cholma was getting frustrated by the apparent ineffectiveness of his attacks. He had never fought a foe who was completely immune to a psychic attack. Only his powers that manifested as physical attacks seemed to harm the behemoth. Even then, all he had seemed to do was knock a skull or two off the giant's grisly belt.
A thought occurred to him, and he tapped his comm. "Maddy? Maddy, can you hear me? This is Cho."
"A little busy down here, Cho," came the feisty response. Cholma could see her slashing at one of the giant's shins, while two more heroes he didn't recognize attacked the same leg.
"Sorry," he told her. "You said this guy was magical, right? Do you actually sense any magical energies coming off him?"
"Wha…? What kind of question is that? Of course -oof," she paused as she jumped out of the way of a massive foot stomp. "He's magical, so of course he's emanating magical energy!"
"Right, right. But. Do you ACTUALLY sense any? Have you tried?"
The sounds of battle overrode her voice for a moment. "…make you shut up, then I'll do it." He saw her pause her attacks for a moment and raise an arm up towards the creature's center of mass. "Are you happy," she started to say as she raised her arm. "He's putting out…" She lowered her hand and then raised it again. "He's putting out… putting out… nothing? What the hell? What's goin' on here, Cho?"
"We've been tricked, that's what! Now I know why my attacks on his head did nothing. It's an illusion, Maddy! The only attacks of mine that actually did any visible damage were ones that hit near his belt! Try to get everyone down there to attack his waist!"
"Got it!" Maddy ended the call, and began directing her attacks upward. She shouted to nearby comrades to do the same thing.
The roof Cholma stood on shook slightly as someone landed behind him. "Looks like you got quite the dustup going on here, Cho," said a familiar voice.
"Animal! Good timing! We could certainly use your mighty fists for this."
"Be glad to help out. Heard the call on the scanner, and since I haven't had any luck trackin' down troublesome family, this sounded like a fun way to end the night."
"Fun? But he's… oh, right. Yeah, I can see you enjoying this. You always have loved being in the thick of things."
"Exactly. Now what were you just saying to someone about Freakazoid's waist over there?"
"Hmm? Oh! I think this guy is an illusion, perhaps surrounding a real guy or machine. The only attacks that have any effect are the ones that hit near the waist."
"Excellent," grinned Animal. "That's all I needed to know." With a wink at his friend, he said in a fake voice, "you point, I punch!"
Cholma chuckled. "Well, in that case, 'Minsc'…" He voice trailed off as he pointed towards the illusion of Jack in Irons. PSL Animal triggered his teleport power and immediately appeared standing on one of the large skulls adorning Jack's chain belt.
Animal gripped one of the massive chains with one hand while he delivered a powerful Haymaker punch into Jack's belly. Although he had seen it many times before, Cholma was always amazed at the power contained in that punch. A visible shockwave exploded outward from the punch, and the huge creature actually staggered backwards three steps.
A cheer arose from the ground troops, and as word reached them to aim at the waist, concentrated fire started to blast all around the creature's obese midsection. Punches, bullets, flames, and energy attacks of all types assaulted the giant.
Blow after blow hammered the illusion of Jack in Irons, and its own attacks became more sporadic and far less accurate.
"We've got him on the ropes!" someone yelled out. Moments later, the image of Jack flickered a couple times then vanished all together. Left in its place was a heavily dented armored ball, hovering in the air on hi-tech repulsors. Those who had gripping the illusion's chain belt now found themselves holding on to a metal pipe running around the perimeter of the sphere.
PSL Animal was one of those people. Easily lowering himself down to hang from one very muscular arm, he scanned the underside of the floating ball and picked out three evenly spaced glowing circles. He spotted Maddy rising off the ground, approaching him. He gestured towards one of the lighted circles and she nodded in understanding.
A few magical blasts and the circle sputtered and went dark. The armored ball suddenly rolled off-center and slowly began to descend; no longer able to support its own weight plus that of the heroes standing on its hull. Maddy followed it down, and when it started to stop a few feet above the ground, she attacked another of the repulsors. The sphere finally settled on the ground and the group of heroes continued to pound on the shell.
Cholma teleported next to Maddy, just as Animal discovered a hidden hatch on the device. The incredibly strong hero peeled the hatch back, grinning as the lock snapped with a loud popping sound. Animal dropped the hatch to the ground and looked inside. An oversized fist came hurtling out of the open cavity and struck the hero right between the eyes.
PSL Animal staggered backwards under the surprise attack and, with a roar, a mountain of a man leapt out of the disabled sphere and attacked the nearest person, which happened to be Cholma. A mad brawl ensued as nearby heroes joined the fray. Of course, Maddy, Cholma and a seriously ticked-off PSL Animal were in the thick of it.
In what was only a few minutes, but felt like an hour to the battered Cholma, the villain was subdued. A Longbow Captain approached and helped Cholma apply a pair of power-sapping restraints to the barely conscious man's forearms while Animal held him down. The group then flipped the man over to see who they had caught.
He was dressed in black coveralls with circuitry running through the fabric and a similiarly designed helmet. Maddy was checking out the inside of the sphere and glanced at the man's coveralls, which had several cables hanging off various parts of the suit. "Looks like he was actually plugged into this thing," Maddy commented thoughtfully. "It must have provided feedback that allowed him to more accurately control the illusion."
"Then let's take a look at who our mysterious troublemaker is," suggested Cholma as he reached down and pried the helmet off the man's head. With a groan, the mustachioed man regained conscious as the gathered heroes gasped in surprise.
"What's the matter," the villain sneered. "You've never seen such a perfect physical specimen of a man before?"
"It's Anti-Animal!" exclaimed Maddy in surprise.
"Hello, cousin," whispered PSL Animal menacingly in the villain's ear.
Anti-Animal spit on the ground. "Oh joy, if it isn't Pathetic Stupid Loser Animal, himself. Did Mommy let you out to play today?" Animal tightened his grip around his cousin's chest. "Careful, cousin, it wouldn't be heroic to further injure a restrained prisoner would it?" The only answer was a low growl.
Cholma compared the faces of the two cousins and was amazed at how similar they were. Side by side, it was easy to tell the difference, but by themselves he could see how it would be difficult to know for sure who he was talking to. He kicked the villain's boots to get his attention. "So you're the one who's been terrorizing Mister Hackleford? Why do you want his property so bad? And what's with bringing in the Halloween rejects?"
Anti-Animal laughed cruelly. "What's the matter? You don't like my new friends? I'm sure they'll be so disappointed. As for that fool, Hackleford, all he had to do was accept my more than generous offer. He's not even using the damn place I want!"
"Well, your days of scaring and intimidating people are over, scumbag," said Maddy with a snarl. "Whatever your plan was, it's over now. You'll be spending Halloween in the Zig. Unfortunately for you, there's no treats there, just tricks."
"You'll regret getting in my way," warned Anti-Animal. "My plan was perfect! I would have gotten away with it too, if it weren't for you meddling capes!"
Two Longbow agents in the rear exchanged looks. "Did he just…" whispered one of them.
"No, no. Don't be silly," replied the other. "It's… it's just a coincidence, I'm sure."
"As for going back to the Zig," Anti-Animal continued. "I have other plans." He rubbed his boots together and the right heel popped off. Before anyone could react, the notorious criminal slammed his right boot against the hull of the armored ball, depressing a hidden button.
"So long, fools!" A modified Emergency Medical Transport device in his boot activated, and Anti-Animal vanished.
A mad scramble commenced as everyone tried to track the fugitive down. Maddy Jones had the idea of heading back to the warehouse where she and Cholma had discovered a room with a metal ring on the floor. But even if the ring was some kind of home-made teleport pad, there was no sign of Anti-Animal. He was long gone. Cholma was the first to notice that both laptops on the desk were also gone, while PSL Animal asked about an obvious dust void in one corner.
"You've got to be kidding me," sighed Maddy when she saw what Animal was pointing out. "That's where the mini-fridge with the microwave bolted on top sat."
"He took his pizza and beer?" Cholma shook his head in disbelief. "How weird is that?"
Animal chuckled. "He may be a low-down, no good, painful pimple on the backside of my family's history, but at least he's got his priorities straight!"
The three friends shared a laugh as PPD investigators arrived to take over the scene. The heroes walked out of the decrepit building and said their 'good nights' before heading off to their homes. Anti-Animal was gone for now, but none of them was foolish enough to believe he was gone for good.
THE END