So, you want to own a piece of Brassy Art for your very self (or maybe you want to give it to someone else – admirable!). Commissions are taken on a wait-list, so use the contact form at the bottom of this page to get yourself on the list. I go down the list in order, and when your slot comes up I'll get back in touch with you. The only way to find out what the current wait is like is to contact me!
Here's some basic info on commissions with samples.
Types of portraits/sizes. Please contact me with the form below to get on the waitlist or ask about extended pricing for special requests.
Full-body Portraits – $50 per person/character

Bust (head and shoulders) – $30 per person/character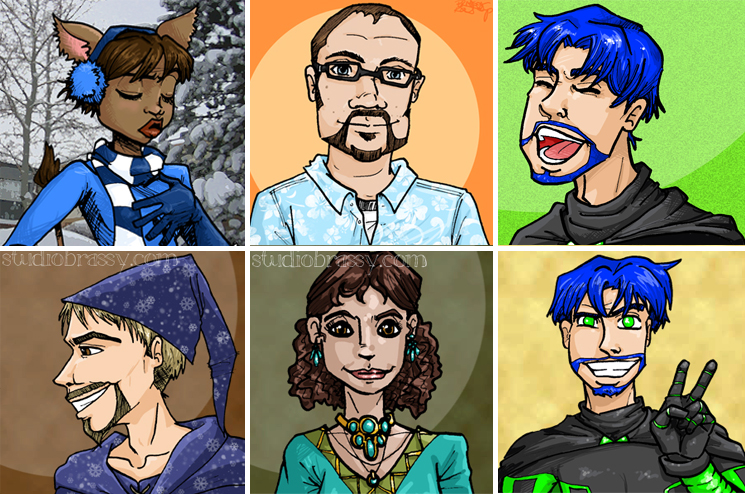 Pet Portraits – $40 per animal/character

Please note: your portraits will not have the water-mark.
What you get with a basic portrait commission:
a high-res full color print
a smaller sized-for-web version for you to show off, post on Facebook, etc
a cropped and sized square mini version for use as an avatar online (small headshot appropriate for social media)
your high-res original print file – you may reprint your art as needed, but you MAY NOT SELL it
your original line-art on bristol board
PLEASE NOTE: these are personal use commissions and are not for commercial use. Yes, you can show off your art on your personal blog, but no: you can't sell it. If you need something for business use, like a coporate logo, you will need to negotiate that before any work is done.
Additional options:
Card Designs – you may use your high-res digital to create your own greeting cards for personal use (send them to family, friends, etc – NOT FOR SALE). Go crazy and have fun! If you would like me to design your card for you, I can do that too. Just let me know before price is finalized and any work is done. I will need to factor in the time for the extra design work.
Comics – If you want a comic strip or page, that's doable. It's a huge project, so please be prepared for an appropriate fee when you contact me. I will not create comic pages for you on spec or on trade. If you want help with character design for your own comics, that would be considered commercial use and will have an appropriate fee as well.
Backgrounds – all portraits come with a basic background color and simple effects (half-tone, gradient, etc). More involved backgrounds are available upon request and will need to be added into the final price before any work begins.
Ornaments – here's an example of Domino Tile ornaments I've made.
What I need from you:
subject's photo – a few different angles, especially close up of face, front, and side views
their personality – is the subject serious? silly? shy? anxious? outgoing? bold? I want to create art for you that lets their personality shine through
their favorite activity or prop – do they love sewing, chess, football, reading…? If they're seriously into fashion, what's their favorite outfit? Does your small child have a favorite stuffed animal or blankie you don't see them without? This detail will help bring your portrait to life.
Please Note: artistically involved extras, such as a real horse, dog, imaginary pet (dragon, fairy, troll, Skylander, etc) will cost extra based on complexity. Adding a blankie is easy and would be silly to charge for, but adding your border collie is going to take some time! This is negotiated before a final price is set and before work begins, so there won't be any surprise fees at the end for you.