Whether your website needs a little facelift, a total redesign, or you don't even have a site yet, I can help.
I design custom websites for individuals and businesses in WordPress, a powerful Content Management System. WordPress is highly customizable, stable, and functional. As a non-proprietary Content Management System, you're also not locked into a single web developer or designer – you have literally thousands to choose from.
When I design your website, I employ a few key website functions, usually with plug-ins. Using plug-ins helps future-proof your website, because if you change your theme (the visual design) your plug-ins are untouched. You haven't just accidentally deleted your social network cross-poster when all you wanted to do was change from a left-hand side bar to a right.
A few of the functions I set up for you include:
responsive site design (resizes based on browser size from desktops to mobiles)
dynamic XML sitemapping
caching for improved site performance
a business dashboard to improve your experience using the website (if you're afraid you'll break something, this is definitely for you!)
social media cross-posting capabilities
set-up for improved SEO function (SEO friendly permalinks AND an SEO plug-in to help you when you're posting)
a blog
featured video and photo sliders
custom menus
Don't let WordPress fool you – we can accomplish way more than "just another WordPress blog" with it! In fact, you don't need a blog if you don't want one. This can be ideal for businesses that are looking for a static, well-organized website without a blog.
As a graphic designer, I also do custom art and graphics for your gorgeous new website. Everything's coordinated so that your brand or personality is consistent across your website. Your package typically includes:
typography
professional color palette
graphic header
social media buttons
background images (art-intensive background designs may be extra)
I can even be contracted for content creation, doing things like writing for your website or developing your marketing materials (business cards, postcards, etc).
Now, let's look at the fun stuff: my design portfolio! In addition to my own website (hint, you're on it already), here's a couple more I've done.
First up is daMelbye Studios, a local sole-proprietor baking and crafts shop. I designed her comprehensive branding strategy, which included a color palette, typography, logos and headers coordinated across her website, Facebook business page, Etsy shops, business cards and all packaging and stationery (including shipping and product labels, gift tags, and invoices). In addition to design work, I implemented her entire website. This included installation of her wordpress blog and heavy theme modification, which includes coding in HTML and CSS for a custom product. Her website damelbyestudios.com is no longer live, but we can still marvel at the screenshot below.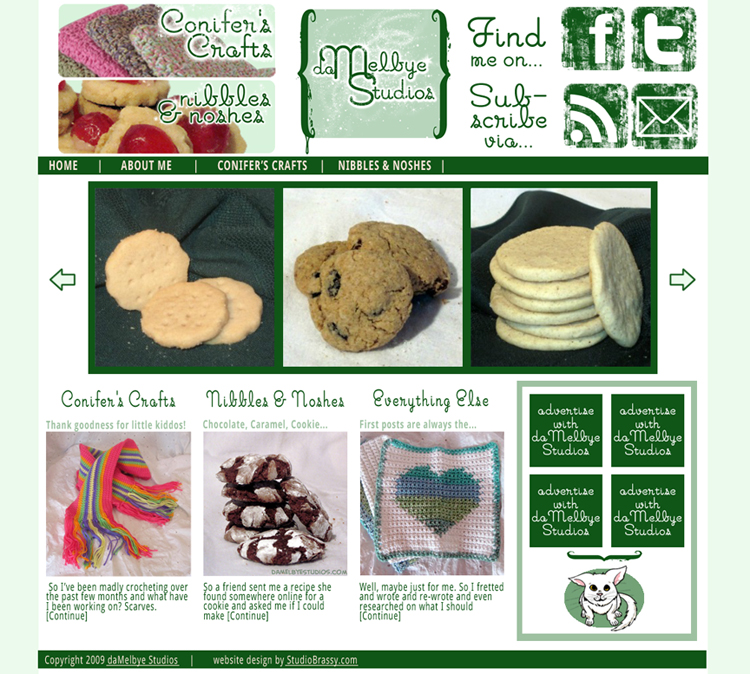 Sadly, we can't click on a screenshot to try out the fancy image slider, or the social media links, but the design elements are still clear.
Next up is DoubleTime Personal Assistants, another local Coloradan business. DoubleTime is a team of personal assistants that handles all sorts of tasks. I also work with them as a subcontractor, so clearly I think they are extremely awesome. If you ever need some admin help that's not in my skillset, I highly urge you to check these guys out and let them know Brassy sent you.
I did DoubleTime Personal Assistant's re-branding project, which included naming, logo design, color palette, marketing materials, and website design, installation, and customization (CSS, PHP, HTML, and custom graphics). You can click here to check out their site live, or you can marvel at the screenshots below.
This is the front page of the website and it features a slider at the top that takes both images and video (oooh, fancy!). There's a lot of little customized color touches like the search bar at the very top and the adorable, matching little gold magnifying glass. The social media icons also match the corporate color palette I designed.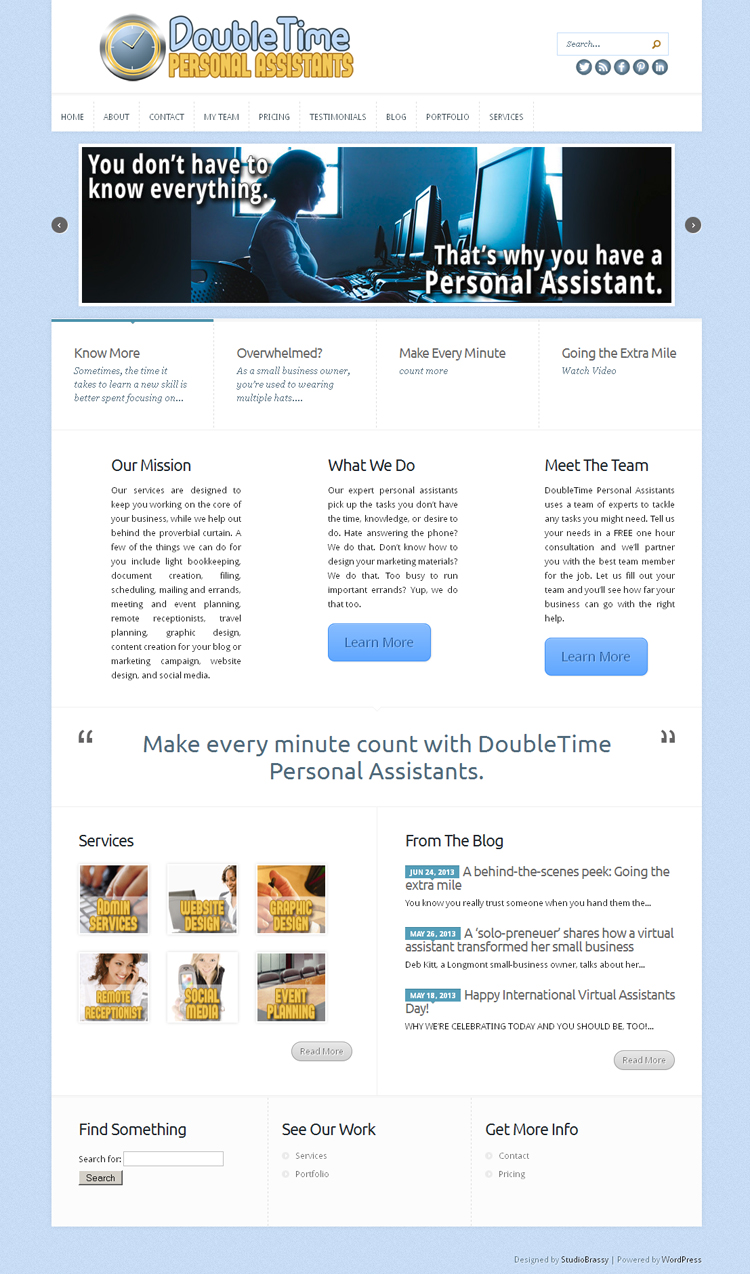 This next example is the DoubleTime Personal Assistant Team page (well, the top of it) to demonstrate the side bar and also the fancy dialogue boxes (so modern I should find a Scandinavian name for them).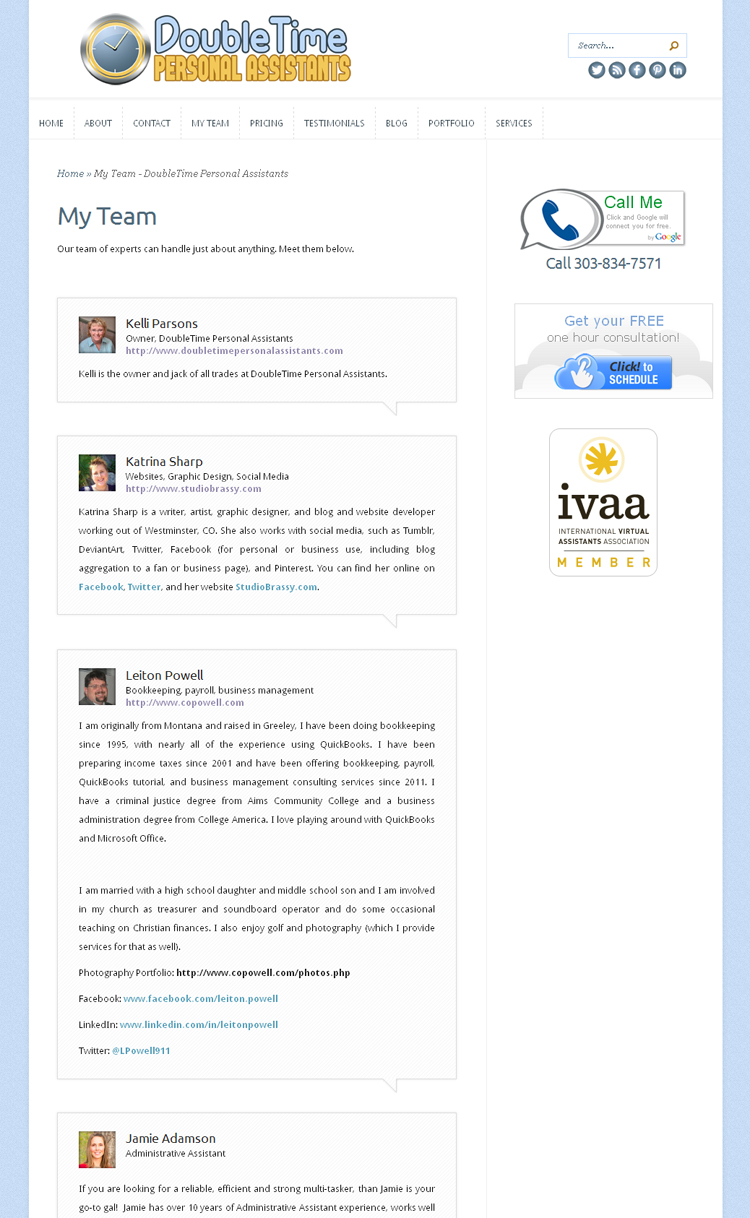 Bonus: this site is responsive! That means it'll look good on a desktop, a tablet, or even an itty bitty smart phone. If you want to test that without loading it up on your phone or tablet, you can go to DoubleTimePersonalAssistants.com and resize your browser window to trigger the responsive design elements. No OnSwipe here guys! This site looks good on mobile.